Bayan is 14 and attends alternative education classes in Madaba, Jordan. She really enjoys math and the games she plays to learn mathematical concepts. And her new friends at the alternative education center help her to learn – while they help her take care of her baby girl in the class.

Her baby girl?

Bayan dropped out of school when she was forced into an early marriage. Now she lives in a tent with her unemployed husband and works on a farm for $14 a day as an agricultural laborer.

Talk about having things stacked against you! She is caught in a cycle of illiteracy and poverty that puts her at risk of a future of continued poverty and ignorance. A cycle that pretty much ensures that her daughter will grow up in the same cycle.
Her education is a way of breaking that vicious cycle.

A relentless Questscope "community mobilizer" spent a great deal of time and effort to convince her husband and his family to let her enroll with us to continue her education. Bayan has a right to education. For this mobilizer, whatever it takes to create an opportunity for Bayan to exercise this right must be done.

A new horizon has come into focus for Bayan. At least she has a chance to complete basic education. And to perceive of herself as a person of worth and value. Even though she is now a mother, she is also a young girl, still in formation as a human being, still in need of people to accompany her in her growth into adulthood.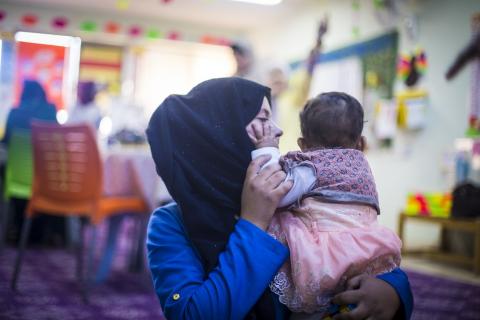 She is supported by her educational facilitator and by her friends at the center. She is not alone.

If there is anything that reflects our commitment to putting the last, first, it is ensuring that Bayan has a second chance. A chance for a different future. For her and for her baby girl.

This Mother's Day, honor the moms in your life with a gift that keeps hope alive for moms raising families in the hardest places on earth. Make Your Gift Here.