This month we celebrated the opening of 28 new alternative education centers across Jordan. This is the launch point to reach over 100,000 out-of-school Jordanian and Syrian youth in the years to come.
The Syria Crisis has been raging on for five long years. Many Syrian refugee youth have been out of school for that entire time. Jordanian youth who were vulnerable before the crisis have even less support now as the Jordanian school system struggles under the pressure of unexpected numbers. Jordan is a country of only six million into which nearly one million Syrians have fled to escape the war.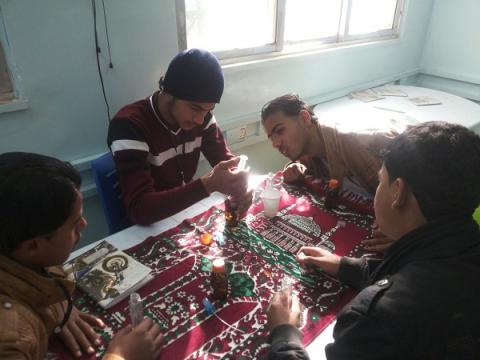 Students work together during a vocational class mixing ratios for perfumes.
This new expansion is in partnership with USAID and the Jordanian Ministry of Education. They saw a need for better options for out-of-school youth and wanted to build on our success in reimagining what it means to educate and care for youth in crisis.
Every child needs an education, but young people whose lives have been ripped apart by war and poverty have other needs that are equally important. They need to know that they are in a safe space with adults who believe in them and who will champion their success – no matter what.

Students play an educational game together.
War in the 21st century means that these youth are far more difficult to reach. 90% of refugees do not live in refugee camps. They're scattered throughout cities and towns – a hidden population with no resources, no money, and no support system.
Our alternative education program is designed to reach these invisible populations and create a support system around them. Our program is built into the community. Classes are held in formal schools and run by formal school teachers. Parents are encouraged to get involved in classrooms and extracurricular activities, strengthening the bonds between families and neighborhoods.
This expansion is called Second Chance – demonstration of a Questscope core belief that youth who are struggling on the fraying edges of life deserve a second chance at a stable present and a hopeful future. We're grateful and excited for our chance to walk alongside these young people as their lives change from a dead-end without hope to a place with freedom to act on their dreams and ambitions.